The Digital Humanities Graduate Certificate at Michigan State University is open to matriculated graduate students at MSU. It is not available as a stand alone graduate program.
OVERVIEW
Talking about the digital and the humanities in the same breath is no longer strange or alien. Indeed, much of the humanities are now digital. From the camera to the screen, digital tools and technologies shape how we tell stories, make art, shape experiences, and create interactions. Research has been similarly transformed by the availability of vast quantities of digital media (text, images, audio, and video). Learning how to work effectively in these digital environments is realm of digital humanists. The MSU Graduate Certificate in Digital Humanities, administered through the College of Arts and Letters, is a 9-credit sequence and experience that will help graduate students to negotiate digital spaces of creativity, research, and teaching.
AIMS AND GOALS
In the certificate experience, students will learn both how the digital humanities can help them to do the traditional work in their fields more effectively and efficiently, and how it can open up new transformative avenues of research and pedagogy that may help them to re-envision what it means to do research and teaching in the humanities. Students will examine both theory and practice, engaging in critical discussion as well as production. Through active engagement, research, and building, students will learn how to conceptualize digital tools and techniques. While general familiarity with modern web technologies is suggested, no prior programming or web development knowledge is required. Important to the program is flexibility for students to follow interests related to their specific fields, while also giving them a broad knowledge of the possibilities involved in digital humanities work.
COURSEWORK
The certificate has three required components (for a total of 9 credits), culminating in a portfolio.
DH865 / HST812 (3cr.) – Digital Humanities Seminar
This seminar course provides an overview for digital humanities conversations, theory, history, and practices. Students will chart conversations in DH in tandem with experimenting with a range of DH methodologies, theories, and tools.
Digital Humanities Pedagogy
Students may fulfill the pedagogical component of the certificate with a teaching-related course to which the student will bring a Digital Humanities emphasis. AL881: Teaching with Technology, AL861: Digital Humanities Pedagogy, or AL891: Topic: Practicum in Blended and Online Learning may fulfill this requirement. A specific, focused, supervised pedagogy project may also fulfill this requirement, with approval from the Associate Dean of Graduate Education for CAL.
Digital Humanities Research Experience
To complete the certificate, students must engage in a DH-related project. This may also be fulfilled by participating in a Digital Humanities project with MATRIX, WIDE, DHLC, or by completion of the Cultural Heritage Informatics Fieldschool or Cultural Heritage Informatics Fellows Program. Other options include the completion of a DH portfolio, work as a HASTAC scholar, etc.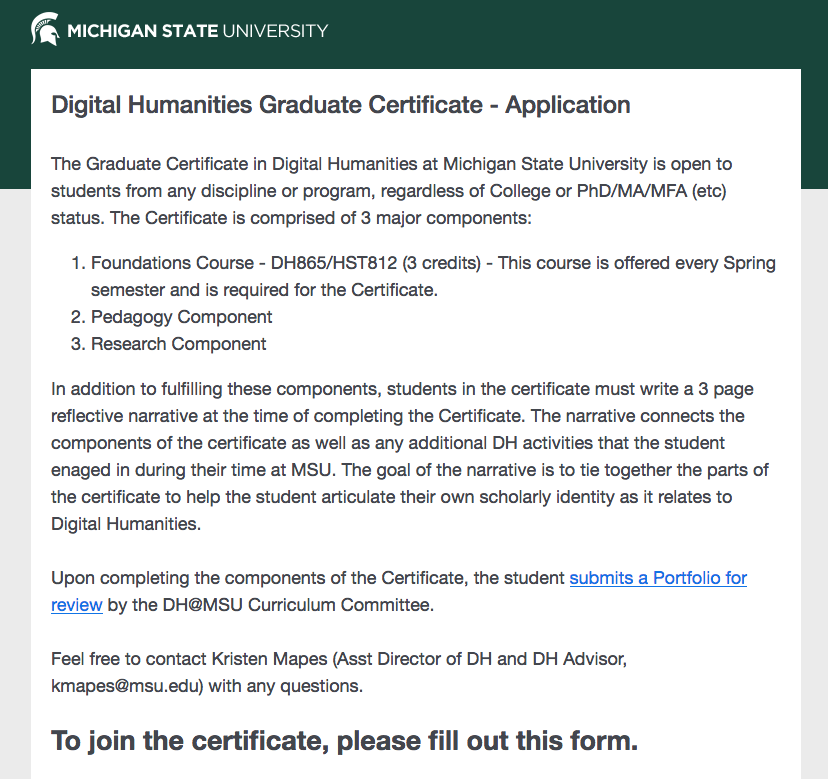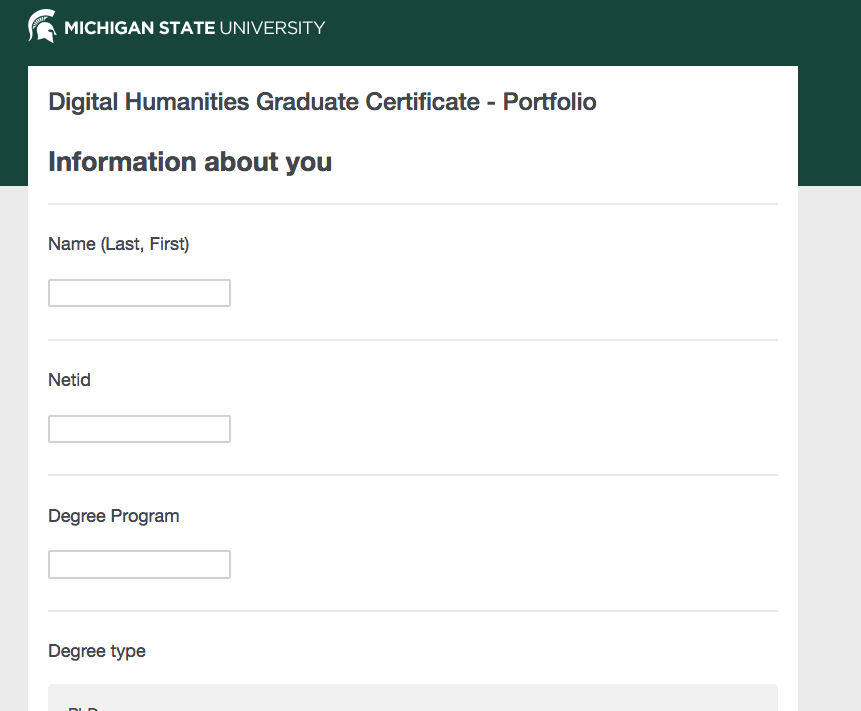 CONTACT AND MORE INFORMATION
For more information about the certificate, course offerings, and/or sequencing the courses into an MA or PhD program, please contact: Kristen Mapes, Assistant Director of Digital Humanities, kmapes@msu.edu or Kathleen Fitzpatrick, CAL Director of Digital Humanities, kfitz@msu.edu.