Stephen Rachman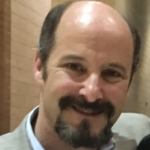 Associate Professor of English
5178844421
C610 Wells Hall
Steve Rachman is Associate Professor in the department of English, Director of the American Studies Program and Co-Director of the Digital Humanities Literary Cognition Laboratory at Michigan State University. He is the editor of The Hasheesh Eater by Fitz-Hugh Ludlow (Rutgers University Press). He is a co-author of the award-winning Cholera, Chloroform, and the Science of Medicine: A Life of John Snow (Oxford University Press) and the co-editor of The American Face of Edgar Allan Poe (Johns Hopkins University Press). He has written numerous articles on Poe, literature and medicine, cities, popular culture, and an award-winning Web site on Sunday school books for the Library of Congress American Memory Project.
http://digital.lib.msu.edu/projects/ssb/?action=introessay
He is a past president of the Poe Studies Association and currently completing a study of Poe entitled The Jingle Man: Edgar Allan Poe and the Problems of Culture. Over 20 years, he has worked on a number of other cultural projects with DH components. He created a study of a remarkable series of nineteenth-century paintings by a highly regarded Cantonese export artist known as Lam Qua. The paintings depict the Chinese patients of a leading medical missionary—Reverend Dr. Peter Parker, an American Presbyterian minister and physician who opened a hospital in Canton in the 1830s. For more information see the following link.
http://www.historicalvoices.org/lamqua/index.php
He was a recipient of the 2007 AT&T Faculty Instructional Technology Award, First Place Blended Course. He is a research associate with the Melville Electronic Library Group developing an online version of Herman Melville's Civil War Poetry Battle-Pieces. Most recently, with Natalie Phillips he is collaborating on several neuro-literary projects including an essay for a forthcoming collection Humanities and the Digital (MIT Press) edited by David Theo Goldberg and Patrick Svensson, entitled, "Reshaping Fields through Intersecting Technologies from Literary Neuroscience and Digital Humanities." In 2012-13, he began a project on Pearl S. Buck as a transnational Sino-American figure exploring her concepts of comparative democracy, feminism, and literature.