Jesse Draper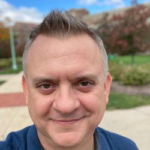 Interim Executive Director, H-Net: Humanities and Social Sciences Online
Old Horticulture, Suite 141H, 506 East Circle Drive, East Lansing, MI 48824
I'm married (20 years!) with three kids, a dog, and two cats and we live among a tribe of beautiful people in the Lansing / East Lansing Michigan area. I spent the 90s trying to be a rock star and the aughts getting an M.A. in American Studies and a PhD in 20th Century Urban American History.
By day, I am an Academic Specialist with the MSU History Department (https://history.msu.edu) serving as the Interim Executive Director for H-Net: Humanities and Social Sciences Online (https://h-net.org), an independent, non-profit scholarly association that offers an open academic space for scholars, teachers, advanced students and related professionals. I began working with H-Net in 2013 as a Content Developer while finishing my PhD in U.S. History. I joined the organization as the Associate Director of Networks in October 2014 and became Interim Executive Director in January 2020.
By night, I focus on waking up, healing up, and showing up for myself, my family and the world.
My current research interests focus on Digital Humanities as a large-scale scholarly project. H-Net's transition from listservs to a more robust content management system, the H-Net Commons (https://networks.h-net.org), has presented many questions about how and why scholars use digital spaces for research and teaching. This has prompted discussion about digital publishing, peer-review, and how to utilize these new platforms to meet the needs of scholars in an increasingly digital 21st century.
In 2022, I am overseeing the release of a new Drupal 9-based platform for the H-Net Commons and working to broaden employment opportunities for PhDs on H-Net's Job Guide (https://www.h-net.org/jobs/home.php) to include more robust and consistent Alt-Ac career opportunities.
I also teach courses for the university from time to time including:
HST 201: Race and Labor in the Development of 20th Century Detroit, Spring 2016.
HST 110: What We Want, What We Believe – #BlackLivesMatter Activism in Historical Context, Spring 2017.
DH 340: Digital Humanities Seminar, Spring 2019-2020.