The following Project Highlight was originally created for the DH@MSU Undergraduate Newsletter and was featured in the March 1, 2023 issue. Subscribe to the Newsletter here.
Comics as Data
Led by Julian Chambliss, Justin Wigard, and Kate Topham
"Comics as Data is an ongoing collaborative project that examines library catalog data to explore geographies of publishing and library collecting policies in North American comics. Continuing an institutional history of creating collections as data, a group of Michigan State University librarians, digital humanists, and faculty formed a working group in 2018 to compile and analyze comic book data. GPRW has taken up the work of exploring this data through our Wikidata Edit-a-thons. You can download the dataset here.
The project utilizes MSUL catalog metadata about North America comics in the Comic Art Collection. MSUL is home to the world's largest publicly accessible comic book collection and this project seeks to develop the catalog metadata as a corpus to explore the production, content, and creative communities linked to comics in North America. The project team members include Julian Chambliss (Department of English), Devin Higgins (Digital Library Programmer, MSU Library), Kate Topham (Digital Humanities Archivist, CAL), Kristen Mapes (Asst. Dir. DH, CAL), Ranti Junus (Systems Librarian, MSU Library) and Scout Calvert (Data Librarian, MSU Library). Learn more about MSUL datasets here. The current work linked to CaDNA is pursued within the Graphic Possibilities Research Workshop (GPRW) in the Department of English. You can find the latest information about CaDNA by visiting the GPRW website.
The CaDNA dataset allows users to explore relationships linked to comics publication. Below are examples of sample visualization created using the data."

Learn more about the project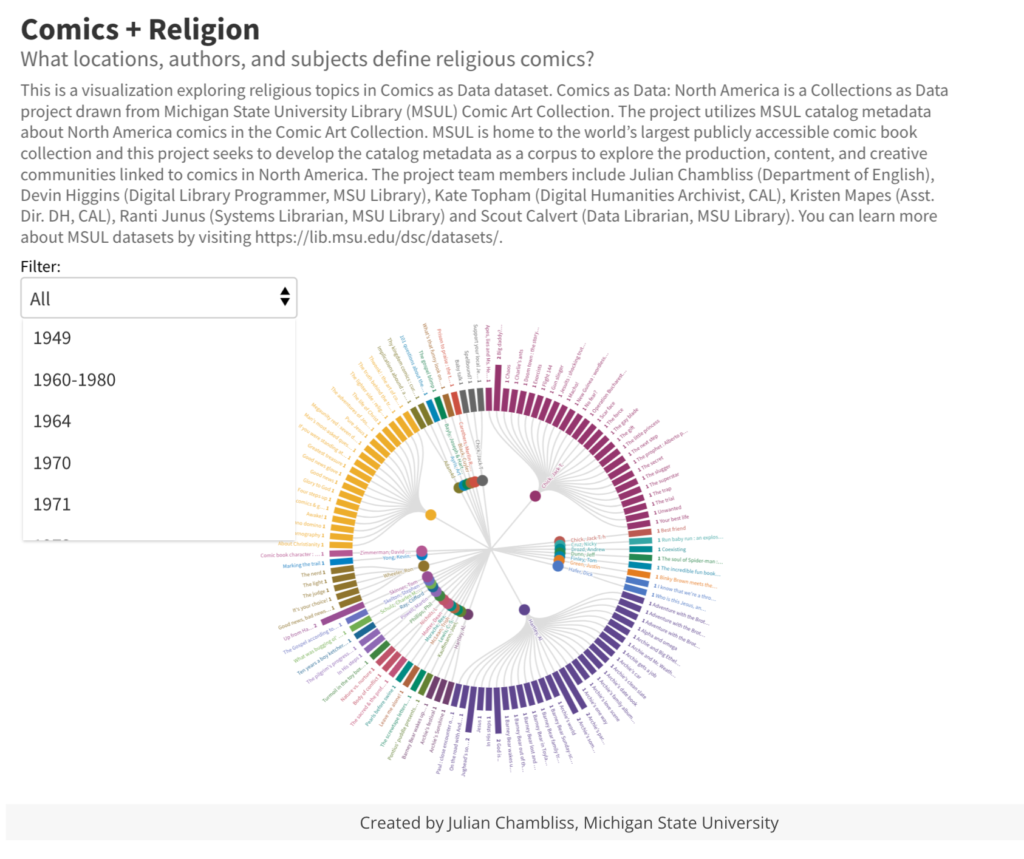 ---
Check out the presentation below to learn more about the project!