We encourage all in the DH@MSU Community who have an MSU email address to join and engage in discussion and information/resource sharing on the MSUDH Slack group. The Slack group can be accessed via a browser and/or by downloading the app on your device and then signing into the MSUDH community.
Please reach out with questions about signing up, accessing, and using Slack by contacting dh@msu.edu or @DHatMSU!
Sign Up
To sign up for the MSUDH Slack Group, go to msudh.slack.com/signup. Note that you must signup using your MSU email address.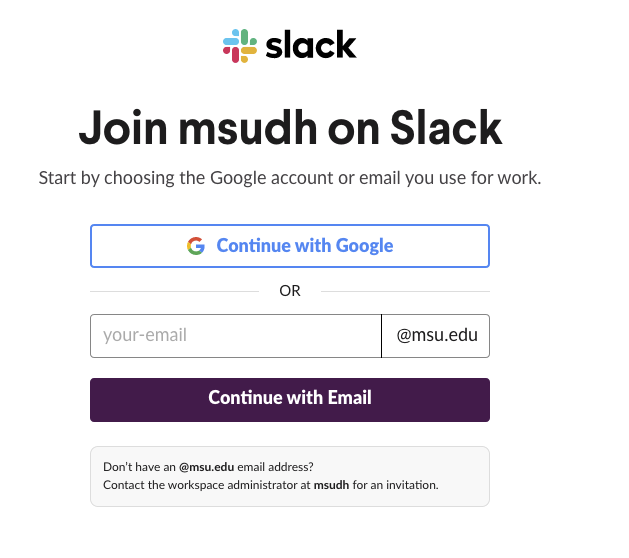 After signing up, you'll be added to several "channels" by default:
#general – Space to introduce yourself, ask questions or share announcements with the community, and discuss DH
#events – Space to share information about upcoming events; also serves as a reminder feed from the community calendar
#random – Space to share and discuss things that may be off-topic to DH but are fun or interesting
#thatcamp – Conversation space for the annual THATCamp Unconference
#dhresources – Space for sharing tools, tutorials, readings, and other DH resources with the community
In addition to these channels, users can direct message individuals or small groups, and users can create private channels for projects or other work.
Sign In
To sign in for the MSUDH Slack Group, go to msudh.slack.com.